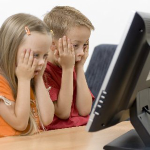 Technology is necessary to make life comfortable and fast. It is up to us that how we use technological advancement. If we talk about computers and internet, it is the best discovery of science that has enabled us to get knowledge from the entire world with the help of one click. Computers are also very helpful as far as study of children is concerned. Children can get help from Internet for doing their projects. Children can get knowledge about many academic and non-academic queries. By contacting experts online, children can solve their doubts easily. They can get many new ideas from computer and it helps them to update their knowledge.
But, as goes a famous saying, 'excess of everything is bad'. PCs are now being defined by many critics as professional killers. Children spend too much time on computer that cuts them from social interactions. Critics opine that overuse of computer and Internet kills the originality of ideas, as children tend to stop thinking themselves. They become over dependent on computer for completing assignments. Children become copycats with the help of a mouse. So, you should motivate your child to take help from good books and teachers in addition to computer. Help him develop the habit of reading newspapers daily for updating his general knowledge.
Books are an authentic source of knowledge. You can gain maximum knowledge from them without any loss. Over dependence on computers can harm the eyesight of your child and can make him spectacled. Your child can become a problem child too. Excessive use of computer can make him aggressive. Many researches have concluded that those who work too much on computer are more irritable and aggressive than others.
You should spend some quality time with your child. Help him in making assignments. You can solve his problem by your own. Make it a habit to check the day routine of your child. Fix the hours of working on computers. I know many parents who always complain that their children spend many hours on playing games on computer. In such a case, scold your child because it is the question of his health.
Many times children open censored sites, which are unethical. It puts a negative impact on the growth of the child. It is a suggestion that you should keep computer in your room and tell your child to use computer in your presence, especially if he is in a very impressionable age. You can also check the history of the computer to know about the sites that your child has visited. Now there are many software programs available which protect any misuse of internet by the kids. You can block various website and keywords which are harmful or unsafe.
Computers are a good source of knowledge but it is your duty to guide your child to get benefit from it without any harm. There is no harm in using computers judiciously. You can know many things, which are new to you but you should educate your child about its good and bad points too.