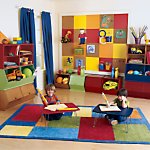 In the today's nuclear families, children are like toys. We want to see smile on their faces and are ready to do anything for them. Everyone wants to see his child happy. Everyone wants to buy everything for his child. So many toys, so many clothes, so many other things like bed sheets, cosmetic items etc. We need every thing in abundance for our child.
But the problem is to how to manage all these belongings in the child's room. It's when this problem encounters us badly that we realize that many things that we have purchased for our champ are not of much worth. Sometimes in ignorance, we purchase stuff that is of bad quality and could be injurious to the health of our child.
At times we don't have time for our children and try to compensate our presence with excessive toys and gifts. Whenever a working mother late for home, purchases some gifts for her child to escape from guilt feeling. But when she realize that it was a mistake because at present these toys are not much important for him.
He plays with toys for a day or two and then gets bored. He needs only mother. Nothing can replace the presence of parents. According to a research approximately 60% people buy things without any necessity when they wander around the malls. The interesting fact is that of such people 90% buyers are women and only 10 % are men. But when they return home, many realize that they have simply wasted their money on wasteful useless stuff. This realization is many a time a temporary affair and useless buying continues the next time. This is something ingrained in human nature.
Wasteful spending can disturb your family budget. Sometimes your wasteful spending on stuff creates a clash between husband and wife. Useless stuff can also give a messy look to your home. If your home is messy, unorganized and unclean, it can frustrate you and your family members. With the help of your better half and by reducing spending on useless stuff, you can make your home a heaven and keep your family healthy.
When you are going to purchase something for your child keep in mind the utility of the thing. Live in the real world and purchase only requisite things in required quantity, especially if you belong to the middle-income group. Buying new things is very interesting but it is absolutely silly when we buy stuff in large quantity. Even children copy this thing and tend to develop bad habits.
Prefer to lead a simple life and give emphasis on the mental development of the child. You can buy puzzles, blocks or educational games. You can generate harmony and contentment in the life of your child by creating a considerate environment at home.