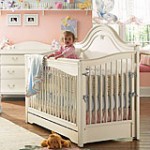 When you as a mother deliver your first child please make sure to keep in mind certain facts about the baby crib that you will eventually buy for him so that the baby sleep comfortably all night long. While buying it refer to the standards chalked by the official organizations to ensure complete safety and security of your little one he is merrily snoring away in it. If you are careful enough to follow all the regulations, you will definitely get the right thing for him keeping him safe and sound in the bargain.
When your baby is just a new born he will sleep in a cradle which is like a swing or a hanging basket which will easily accommodate your baby making him comfy like nothing else ever. Later when you think of upgrading his bed to that of a crib think of a few factors before hand and only then make the change happen.
There are baby crib safety ratings, regulations and standards. Go through the specifications and guidelines. So, before buying a new crib for boy or baby girl, make sure that the design is safe for your child so that he doesn't end up hurting himself while in it. It is important to make sure your baby is safe while in his crib, for that is the only time when he is unattended demanding more safety than otherwise. So have his crib properly checked before incorporating it in your little angel's lifestyle.
If it has wheels make sure at least two of them are equipped with sound breaks to stop it from running over while your baby's still sleeping in it. Do not allow any nails or sharp edged things pointing inwards or anywhere for that matter which could injure your child very badly.
Also make sure that the mattresses are as per the specifications of the same which state they should be fire- safe and that it should fit tightly and is extremely comfy.
Metal supports should be preferred to wooden for their pluses. Make sure you get the right thing for your little one so that he is comfortable in it while you are not around as well.
Think again before investing in a baby bed. There could be a lot of features and factors that you might want to decide before buying the same. After all it is  for someone you love and care so much.