All over America, Halloween celebrations are creepy, fun-filled and sugary too! Halloween fun and thrill can be much more than a single night of trick or treating. Take your little psyched witches, warriors, bug bunnies and super heroes to some of the exciting 'run away' destinations in America so as to inject an additional dose of enchantment to their October Halloween delight. You can even take them to these exciting Halloween destinations on a weekend trip too! Are you ready to know about these places?
Winchester Mystery House in San Jose, California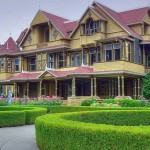 Kids of ages 8 and up can explore this place with pounding heart and additional thrill. Around 1800's, Sarah Winchester built this huge mansion with one hundred and sixty rooms. She built this place to calm down the spirits that apparently haunted her. Still, It is believed that the vanished souls wander around the rooms. The mansion has a stairway that leads to the doors and ceiling of the rooms that ultimately lead to walls. Shozo, the manager of this place says that the psychics have also confirmed the existence of some 'mystic powers' in this place. Whatever the case may be, on special evenings of October, there are unique flashlight tours available for kids of ages 8 and above to explore this 'spine-chilling' place. Kids are allowed to take a light out, adventurous guided stroll in groups through the wacky yet enthralling mansion. On Halloween night, kids can even go for trick or treating around the estate.
Kemah Boo on the Boardwalk in Kemah, Texas
Kids of ages 3 and up will enjoy while exploring this place. Down the south, this historic boardwalk offers the appeal of Coney Island. Also, the picturesque spot makes this yearly occasion an unforgettable experience for people of all ages. Children can go for trick or treating on the harbor at the neighboring businesses. After that, without more ado,  kids can hop on the roller coasters or on the Ferris wheel for a blaring Fun ride. All over the  October month, you can find a 'kid-friendly' haunted house in addition to extraordinary activities such as live band music, finest costumes, pumpkin adornment, coloring competitions and several other fun-filled activities for kids.
Tallahassee Museum in Tallahassee, Florida
Kids of ages 3 and up can have amazing fun here. An exclusive open-air museum with woody, green pathways that lead to some old-time buildings are considered to be an ideal milieu for kids to meet up with some friendly elves and ghosts. The Halloween Howl that is held on October 29th  and 30th is famous for a series of activities. Younger kids will surely be thrilled with the street party games, the "Not So Spooky" pathway and the operational farm. For additional thrilling experience, older children may visit the 'eerie haunted path' and the 'Monster maze'. Kids of all ages may find a Halloween costume challenge and some live band music in this place.
Jack-O' Lantern Blazes in Croton-on-Hudson, NewYork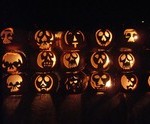 In Croton-on-Hudson, kids of ages 3 and up will find more than four thousand glittering pumpkins at the grand Jack-O' Lantern Blaze situated in the momentous Van Cortlandt mansion. Every year, a theme is set up for Halloween. You can watch a gigantic spider mesh, the gliding snakes, huge dinosaurs and a marine aquarium in this place. You can stare and fix your eyes on more jack o' Lanterns with a weird and wonderful feeling. You can finish your visit with beating sound effects, intricate harmonized lighting and impressive music. All the shows exhibited in this place are of "never-miss" category and it would be the most pioneering Halloween experience for your kids.
Jack-O' Lantern Blazes in Providence, Roger Island
Jack-O' Lantern Blazes in Providence is a dramatic trail of craftily engraved pumpkins that are beautifully set up in Roger William zoo. It takes about 6 weeks for a specialized team of pumpkin carvers to set up "A walk through time" show. This show is the collection of five thousand pumpkins that take you from the Jurassic Park epoch through the wild west up to twenty first century. You can also visit this place on a weeknight for a leisurely visit.
The World's largest Halloween Party in Louisville, Kentucky:
This is a good place for kids who are between 1 and 6 yrs of age. The long running Louisville Halloween festivity is held throughout October. This place rejoices the delightful aspect of Halloween rather than the creepy aspect. "The event held here is planned mostly for younger kids" says the Director of the zoo. The music that is played here will make your little pumpkin to get his monster squash in a fourteen-stop trick or treat path in the midst of the animals, countless snapshot ops such as, princesses, storybook characters, superheroes who roam around the zoo areas like mischievous monkeys.
Air and Scare Museum at the Smithsonian, Washington DC
This place is suitable for kids who are 5 and up. A special hide and seek game that is held in the midst of  a space shuttle and the imitation of the Wright Brothers historic flyer will enthrall your kids for sure. In the October month of the year, the air and space Museum will be converted into an outstanding Halloween fantasy area. More than forty mysterious learning activities will direct your kids all the way through 'truth or trick stations where they get some special and surprise prizes. How do witches drive their brooms through the air? How does the ghoul blaster work? Your kids will find answers to all such creepy questions at the event where the actual robots and poised flights place the inimitable intellectual vibe. The chief of education at the museum, Doug Baldwin says that he is always happy to watch the excitement of all 'Star Wars' fans who come every year to watch the event.