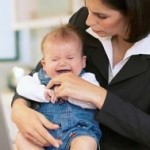 Today's world is a materialistic world. We all are running a race to achieve new heights in our professional lives. For running the vehicle of life smoothly, it has now become essential for both mother and father to work and earn handsome money for the better future of their children. But sadly, in this race for career advancement many a time our children get neglected. There are many parents who live in stress due to concern for the well being of their children who are lonely at home with their nanny.
The vital question is how can we make our children happy in our absence? There are many options and ways to make your child happy. You can send him in a daycare center where he will enjoy the company of many children. Your child can play with different toys available at a daycare center. You can pick him up when you return home. Good daycare centers give motherly care to your child because your child is a client for them who can promote their business. It's because if you are happy with a daycare center, you will certainly recommend it to other parents.
But there are some negative points also. Children possess lots of energy. If they are not sleeping, they are doing something. They love to move everywhere. So they need constant watch. In a daycare center the number of teachers and helpers is not large. They can't constantly take care of children all the time. That is why many times children receive injuries in these centers.
To recruit a nanny for your little heart is the second option. But before recruiting her, you should check her background. Does she love children? Has she been taking care of children previously? What are her desires from the job? etc .
To buy toys in plenty is also a method to keep your child busy and happy. Toys are the best means to shed boredom and create a happy atmosphere in home as far as your child is concerned. Toys play a significant role in the life of children. I am a working mother. I buy many toys for my little sweetheart to satisfy him as well as my inner self. May be I want to return to my childhood with these toys.
The plus point of buying so many toys is that my child is always happy and confident. Whenever other children try to show him their toys, he says that he has more toys than any of them. So toys are the best solution for keeping a child happy for some hours. The nanny of my child is also happy because she doesn't need to play all the time with him, as he remains busy playing with new toys. You can also buy a pet for your child to keep him happy and busy in your absence.