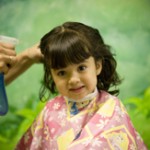 When it comes to hygiene, children's hair also plays a vital role in the same. As a matter of fact it is of prime importance to keep your child's nails, hands, feet, teeth, etc clean all the time. This also includes taking care of his hair for dirty or grimy hair could lead to a whole bunch of miserable problems that could make your child's life a mess.
Therefore when talking of your little one's hair, make sure that you keep them cropped all the time especially in case you have a son for they have a natural tendency to be more active as compared to the girls, albeit it isn't always like that.
When talking of hairstyles for children, not many give it a second thought. But now that life has changed and so have the parents to a great extent, it is always imperative to think twice before giving your child whether girl or a boy, a good neat looking hair style. There are various styles that suit both, boys and girls, so be sure of what will look good on your child before indulging in the same.
'Bob cut' or 'boy cut' that many people call it, is just what is needed for your girl child especially if you think you wish to give her a new look. This type  of a hair do keeps the child's hair short and always maintains the hygiene of the scalp and hair for it requires very little care unlike long, curly hairstyles that always demand more care and pampering.
Then you have certain 'crew cuts' for boys that make them look smart and well kept. It is also very vital in this respect to make sure that these boys also wash and clean their hair once in a while to maintain their hygiene so as to look, feel and learn to be nice and clean all the time. That's why a haircut matters.
A 'wedge cut' is what suits several girl children who look awfully cute flaunting the haircut of their choice and comfort all the time, everywhere they go. This requires very little care and also makes the children look cute and adorable.
Talking of the haircuts there could be nothing better than a 'mushroom cut' for boys who wish to look cute and chocolaty. Yes, this is one of the many hairstyles that were in fashion for years which made and still makes boys look like a slab of chocolate!
So make sure you always take your child's hair seriously as it does matter to be hairy, doesn't it?