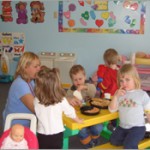 You as a parent would always want your child to grow up to be a good individual and a responsible citizen, which goes without saying. As a baby you watch him learn new things and help him move on just like your parents did to you once upon a time.
When your child grows up to go to school you become more careful so as to put him in the right school for a better future ahead. You go around asking people everywhere about the various schools in town so that you could narrow in on any one of the best for your apple of the eye to study in.
Before beginning the search for the right school, remember to chalk out certain qualities that you think your school should have. It could be anything ranging from the best result all over to a sound faculty. All factors which are important for your child's mental and physical growth in the institution should be borne in mind before getting started with the search for the right Alma mater.
Ask and ask more when it comes to finding out details about the right place to put your child in. Make sure to ask every person you know who lives around you so as to gather the maximum amount of know how about the various schools located in your city. Once you think you know all, start zeroing in on the best few so that you get the best for your child without fail.
Make sure you visit the school you think is right for your child once or even more than once so as to figure out things pertaining to the quality of faculty etc in a perfect bid to give your child the best education in the bargain.
After visiting the school and finding about the teachers etc, make sure you check out the result so that you know where the school stands when compared to the rest. Also do not over look factors such as transport, safety of the child when at school and the timings which could prove to be highly important over a period of time if not before.
Finally it is you who has to decide what is good for your child so be sure of going down to the roots of all so that your get the right thing without a doubt. After all sending your child to a school is quite an exciting experience.
So do not forget to do the asking and the finding job well. We sure of getting all your doubts regarding the school etc clarified way before your child eventually joins it, so that in case you think the school doesn't fit the bill you could easily opt for the other.