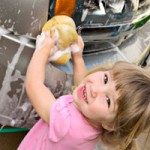 Is your child throwing tantrums each time you ask him to do up his bed every morning? Is he not picking up the plate and putting it in the wash basin after his meals like the rest? Are you getting panicky about how to train your child to walk your dog? Then relax, for we have some good ways of helping you sort out your problem completely. All you need to do is understand the ways and means given in the coming paragraphs for making your kids more responsible and obedient.
Clearing up the beds, arranging the dining table after every meal, taking the pet out for a walk are just some of the various problems faced by countless parents all over the world. But the ones who eventually succeed are the ones with a perfect vision, which we would help you get.
Helping your child in performing household chores is just one prudent way of changing the situation. You could show your little one how responsible you are as a parent so that he would automatically start working in order to keep pace with you to make a whole lot of difference. Kids always listen to their parents when they know they aren't the only ones subjected to discipline. So each time you clear up the mess in their room beckoning them for some help, they would definitely give it to you without a tantrum.
Making household chores fun would enhance their liking to work harder at home. Make sure you play good music while clearing up the mess in the living room or prepare tasty eats to snack on once the work is done. Such measures never fail. They would eventually bond a parent with his kids as when a whole household gets together to work in concert no one back out because it becomes a family affair.
Let your child decide whatever chore he would like to start his day with. This way his interest in the same would be merited and slowly you wouldn't have to remind him to throw the clothes for a wash or even for petty things like dusting the computer or the television when not using them. Psychologically when a child is asked to do what he likes to start any work with, it often helps to train him become more efficient and obedient in the bargain for the sheer reason that he likes what he does, whether in the beginning or the end hardly matters.
Its a good idea to prepare chores charts for children and teens. Chores should always be assigned as per your child's age. Don't try going over board by training your three year old to clear the messy room. Instead, ask him to try putting his toys back in the toy trunk. This way he will learn and not feel like he's been traumatized with the over loaded work schedule.
Pocket money and not a bribe for there is a lot of difference between the two. While bribing causes the child to ask for money or anything that you bribe him with, each time a task is assigned to him. This only means that he isn't working to learn anything but to earn which isn't the right way to teach. Hence, introduction of the pocket money for the chores is a better idea to help him earn and learn both at the same time. A pocket money is never given for the chores alone, but also as a monthly allowance so as to teach your child to use it in the right way.
Holiday scheme never fails to show good results in this respect. Make sure you give a day off to your tiny tots so that they slog off like diligent children on the other days of the week.