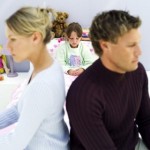 Marriages are made to last for life. No one thinks of separation at the time of marriage. When a couple has a child or children the thought of living together for a purpose gets further strengthened. Even in case of differences, efforts are made to leave them aside to spend life together with children. Sometimes, due to the circumstances beyond control, it becomes difficult to live together and the parents start deciding about separation.
Normally such decisions are taken behind closed door and decisions are taken by the parents themselves or are assisted by very close people. Children are often left out to wonder what is happening and why is it happening. It is normal that the child gets angry at the decision of the parents to separate. In addition to the anger, there is a sense of insecurity in the mind of the child about his future and place of living and learning etc.
Sometimes the child starts blaming herself as being the cause of separation of her parents. She thinks that her behaviour with the parents was not right and due to that the parents started fighting. Had she behaved properly the whole family would have remained intact. The thought of leaving one of the parents, her home, school and friends make her angrier. When it comes to her mind that she is suffering as a result of the mistake of the parents, she gets more angry and aggressive.
With hundreds of children suffering daily due to divorce, it is essential for the parents to be considerate to the child to enable her to accept the new reality and settle down properly. If the child is of the age to understand things it is better if both the parents talk to the child on a daily basis. They should have open free and frank discussion, though it is not necessary that all the sordid details be disclosed to the child. The child should be assured that her future will be fully secure in the hands of the parent with whom she is going to live.
The child should be made to understand that they are not separating due to her fault and still both love her as before. For her sake they tried to adjust and live together but things are beyond the managing level and there is no way out. They will ensure to meet her on all important occasions. Further they will be available to each other on phone calls, e-mail and social networking sites etc.
Before parting the parents should not make derogatory comments about the other before the child. The child should feel that the parting is happy. If the child is unable to cope up with the situation it is necessary that she should be taken to the counsellor.