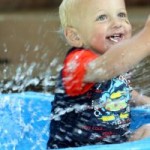 Dry drowning in toddlers or infants is caused by a delayed effect of small amount of water into the lungs. Respiratory arrest is possible in this situation, which is more severe. It disturbs the supply of oxygen in the blood that leads to brain death.
Generally, dry drowning symptoms in toddlers occurs due to water retention in the lungs after swimming or playing with water. Sometimes, there may not be any visible symptom of this ailment just after the swimming or playing, but it may develop with the time. It is not easily diagnosable and the treatment is always delayed to pose serious problem for children.
Dry Drowning Symptoms in toddlers
Experience pain in the chest while breathing.
Sudden change in mood of children after the incidence of water intake.
Confusion is witnessed in children.
Dry drowning affects the child with abnormally lack of energy, tiredness and increased agitation.
Change in skin color like pale, blue or grayish.
Difficulty in deciphering, unable to express feeling or say anything correctly.
Don't ignore child's sweaty skin, cough, cry or rubbing eye after the incidence.
Shallow breathing also indicates that child at risk
Try to count breathing pulse for fifteen seconds and multiply it with four. If it is over twenty respiration per minute, is a red flag for dry drowning.
Causes
Water is aspirated into the lungs of the child.
Supply of oxygen in the blood get disturbed.
It may lead to cardiac arrest.
The result may be brain death.
Undiagnosable symptoms cause death.
Delayed treatment may increase risk.
Treatment
If mild symptoms are seen in the child, don't wait and act quickly because unlike adults, the children can crash immediately after these symptoms are visible. Dry drowning may occur within twenty four hours after the happening. It can be treated if identified at the initial stage.
Dry drowning is not to be treated at home, it's an medical emergency. Rush to the doctor after knowing the problem of the child. Quick treatment will let the doctor remove water from the lungs immediately and supply the lungs with oxygen. This helps in calming breathing process and resupply of oxygen to the blood to save the life of child. Do not listen to the advice of other people to treat the child with home remedies but medical attention is a must at this stage.
Prevention
Keep a close watch on the child after this happening. Child may be advised in advance to take some precaution or safety measures while enjoying swimming or playing with water pipes. Make them to inform the parents about the incident immediately so that an instant medical help can be taken for safety point of view.
Be very attentive and careful while children are in water.
Teach the child to keep mouth closed and plug nose while under water to prevent water to be swallowed.
Advise them to take breaks if they are in water for more than two hours. Snacks and water can be taken in breaks.
Make child to cough every fifteen to twenty minutes after getting out of water.
Contact the doctor if a lot of water comes up with every cough.