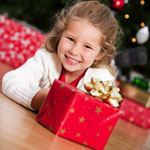 Purchasing a good, attractive and useful gift for your child is a big question for parents because children already have plenty of toys at home. Buying gift on birthday, at the time of festivals or on any other special occasion is a very hard responsibility of any parent. If you are the parent of a girl child, there are many things in the market for your sweet angel, like beautiful dresses, mesmerizing accessories, beautiful Barbie doll, kitchen sets, story books, decorative items etc. All these things are available in market at genuine rates.
Buying a gift for your boy child is a very hard mission to accomplish. If you have lots of money in your pocket, it is not difficult for you to buy anything like bi-cycle, scooter, car, video game, skate boards, costly shoes, stylish bed, mobile etc. for your darling son.
There is no doubt that each and every individual has his own taste and unique distinctiveness. As a parent you must be acquainted with your child's interest and then make your mind up about the thing you want to gift to your little one. There is much dissimilarity between your childhood and the present days.
Technology plays a great role in the making of the hobbies, interests and ideas. In fact, Internet has made available an ocean of information to your child. So, if you want to purchase a useful gift for your children prefer a laptop, keeping your pocket in mind. You can also purchase a digital camera if your child has interest in photography.
You can buy a good DVD player, Flip Mino Camcorder (you can record a video of one hour with it) or a cell phone if your child is slighter older. To give him a mature and handsome look a suit with tie is also an appreciable gift. You can also buy high quality Sunglasses for him. Boys also feel affection for speed. So, you can also gift him a bicycle or a motorbike (depending upon his age). A beautiful jacket or pirate shoes can also be a good gift.
Every boy has craze for video games related with speed. These video games are easily available in the market at economical rates. This is not a fact that every inexpensive item is poor in quality. You can buy genuine rate gifts of high quality for your child. A good book, portfolio bags, a classic pen, muffler or automobile shaped furniture can also be a good choice.
If you have a small garden in your home, you can also gift your child a kit of gardening tools to kindle his interest in gardening. If your child has some artistic tastes, gift him a canvas with brush and colors, a good music CDs collection etc. You should always choose a gift related to the taste of your child and not according to your own wishes. Happiness of your child must be your top concern.