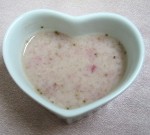 It's not easy to cultivate healthy habits in children after they grow up. So it's better to teach them to eat healthy from a young age. Here are some ideas for healthy snacks for babies. Sometimes instant snacks are needed for babies or infants at home, few ideas are given here.
Apple Sauce
One of most cherished food among children is apple sauce. It's very tasty and contains lots of vitamins and minerals too.
Apples contain approximately 50% more Vitamin A than oranges and promote digestion and growth. They are good for eyes as well.
Along with Vitamin A, apples contain Vitamin G in abundant, is also called the "appetite vitamin" and helps with digestion and growth.
Apples contain Vitamin C which helps in building the immune system by eliminating the free radicals in the body. There by protecting the human body from various diseases.
Bananas
Banana is also well sought after by the toddlers. They are delicious and contain Vitamins and minerals like Vitamin A, Thiamine, Riboflavin, Niacin, and Phosphorus.
Banana is rich in fiber which helps in keeping the body full and satisfied. They also contain potassium required for building strong muscles, functioning of the nervous system, maintain the electrolyte balance in the body and reduce the risk of high blood pressure.
Banana is healthy, filling food and also an instant energy booster.
Strawberry Banana Smoothie
Strawberry and banana make a great combination. Here recipe for Strawberry Banana Smoothie
Ingredients:
1 banana
4 strawberries
1/2 cups skim milk
1/2 cups apple juice
All the ingredients have to be beaten in the blender until required consistency is got.
This mouth watering tasty treat contains loads of Vitamin A that promote digestion and healthy eyes. Also banana as mentioned earlier are a good source of potassium for maintaining the electrolyte balance in the body and reducing the risk of high blood pressure. Strawberries also contain Vitamin C and eliminate free radicals in the body and help to fight diseases.