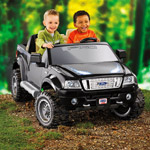 Sharing of the small things owned by a child is sometimes necessary to make the child social. Some children have tendency to be very possessive about the things owned by them, mainly toys. These children try to shy away from others with the fear that the others may take away what belongs to them. However, some of them have the tendency to share and play with the things owned by others. As such it is essential that the child learns and develops the habit of sharing things with other children.
Teaching your child to share his things with others is an art to be exercised carefully, because if not properly explained it may sometimes have adverse effect on your child. Never force the child to share his things- persuasion is the best course.
The child has sense of ownership about his small things. Some children have the tendency even to securely keep certain things not needed or of no use or even broken toys as the pride of possession, force them not to part with them. While teaching a child to share never force or threaten the child that he would have to forego certain treats if he does not fall in line.
While teaching to share, care should be taken not to tell the child to share everything. There are certain things that can be shared. Others like cell phone or a computer or big things like expensive watches etc are not meant to be shared. Toys, cycle or such thing can be shared. While going to the playground you can assist the child to collect only those toys which can be shared with other children and there are not many chances of breaking and loss. Even the child should be encouraged to select the toys. At the playground tell the child to share toys with other children and he can also play with toys owned by others.
Often the child possesses some things which are very dear to them, which may include some gifts given to him by dear ones. You know that the child will not be willing to share these with others so never take these to a park etc. where other kids may want to share. Even if your child insists on taking them, persuade him to desist from taking to a public park. It can be explained that this is special and not to be taken out. Do not tell the child that other children will break it while playing as this can cause fear psychosis in his mind regarding other toys also.
Thus explanation and persuasions in this regard is the best option whereas force will not work.