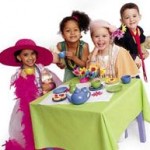 For years on end people have celebrated their successes and achievements over nothing but a simple cup of tea for the only reason that it brought them close to their friends and associates. It's a pity that in this fast paced life, there is very little time to socialize this way yet there are still those who find it good enough to be in the company of their loved ones while sitting out sipping their much loved beverage.
Decide on a theme while organizing a tea party whenever you wish to have one at home. A subject gives any get together a meaning there by enhancing its chances of being enjoyed by all. If it's a birthday party that you are throwing for your little one for instance you could have a theme related to their age. That means if they are in the primary school you could follow a theme like the cartoon network or pogo etc.
The venue would obviously be your house as that is the best place to host a tea party. Make sure you decorate the outdoors with balloons and streamers like it is done incase of a regular birthday bash. You could also arrange the chairs on the lawn outside for all the kids and their parents to sit on, so that there is no need to enter the house and create a mess of any sort. Also make sure you have a camera ready to capture the wonderful moments like it happens in any other function. Such pictures are memories that always take you back to the events that mark a milestone.
Circulating invitation cards is not as good as calling the guests personally as a tea party generally doesn't involve many. You could phone your next door neighbors and the others you wish to invite for the party instead of formally sending them a card to make things easy.
Dress according to the decided theme for more fun and enjoyment. Make all the kids come dressed as their respective cartoon character for a colorful party. Then you could even ask them to act out their respective roles making it more eventful than otherwise.
Refreshments for the tea party should be light but liked by all. Be sure to lay the table with all the food items that the kids love to eat. A cake is absolutely essential apart from the various other snacks that you would like the guests to enjoy. You could even try preparing some of the munchies at home for an economical bash depending upon how good a cook you are.
Organizing games and distributing prizes is yet another aspect of a tea party. After the kids have enacted their roles, the best out of them should be ascertained and awarded for fun unlimited. Such get together bring friends and relatives close to each other and they should be organized more often to teach little ones the art of socializing which is a must in today's fast paced life where there is not a moment for anyone.