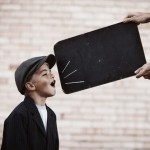 Public speaking is an art. Depending upon the audience the speaker has to adjust the topic of discussion, the flow of language and choose the words. To develop this talent in your child it is necessary that he or she should start learning about this right from beginning. The more the encouragement the child will get the better will be pick up and progress. For a child to be better speaker he needs good vocabulary and confidence.
The training to be a good speaker should start from the day the child enters play school. When the child returns from school he should be asked to describe in detail about his experience in school. Remember to tell the child to complete missing links, if any, in his description. He should be told to describe in full from the time he left home and up to the time he came home. This will be starting of learning process. Let the child sing nursery rhymes loud in presence of the family members or your friends, this will build confidence.
During spare time the child should be made to read a book with you, both reading aloud to one another. This will not only help to develop the reading skill but will also install sense of confidence that he is able to speak in the presence of the mother or father. Take the child to a library and let him select the books he wants to read. Once the reading of a particular portion or a chapter is complete ask the child to describe the story in his own words. Based on the story you have read the child may be asked to develop and narrate a new story extempore, always encourage the child, even if he is wrong somewhere use positive language to teach him, do not ridicule the child or laugh at his narration, as this will discourage the child, even slightest discouragement has long lasting negative impact.
Next important thing is learning of vocabulary. Buy your child a diary and a dictionary. Encourage the child to note down a new word which he hears in his diary and read it often so that they go into his memory. The child should learn to use dictionary to find meaning of difficult words, this way he will remember these words on which he has done some research.
Whenever there is some gathering of relatives or friends ask the child to welcome them, similarly prepare a speech for him to be read out in school function. Once the child is able to read first topic in school assembly with persuasion and effort he will become a good speaker.