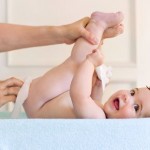 Changing the cloth diaper may need a little of practice but disposable ones are very simple. But either case, certain process need to be followed. The baby must be always put on firm surface, easy to clean and on a soft cloth. It is good to use diaper changing pad, table or station. If changing on a higher surface, then the baby must be strapped.  The baby bag with all the requisites such diaper rash creams, diaper, power and trash bin should be within reach. The umbilical cord should be washed carefully with alcohol to protect from infection.
Baby boy diaper change
A small towel should be placed on the penis to stop them from messing the whole place. While cleaning the poo, all the areas including wrinkles and crevices should be cleaned. Care should be taken to prevent poo from entering penis and cause infection. For newly circumcised penis, antibiotics cream and light bandage should be put on the penis and for the uncircumcised ones, the foreskin should be pulled. It would settle down by the time he is three.
Baby girl diaper change
Care should be taken to clean up from top to the bottom. Also, warm water and soft cloth should be used for cleaning the infants. Extra attention need to be paid while cleaning girls as they are more liable to get bacterial infection than the boys.
There are separate disposable diapers available for the boys and the girls and come in blue and pink respectively. The ones for boys have extra padding for in the front for wetness control and while the ones for girls are extra thick at the bottom. Cloth diapers can be used as well.
Use different types of cloth diapers for baby boy & girl
For baby boys,'Twist' method should be used to diaper the child. This method ensures there is extra cloth in the front to avoid leakages.  The diaper should be laid out and the baby boy should be laid flat on it. Care should be taken to ensure that the diaper is above the waist level. Then the left end of the diaper should be picked up with right hand and the right end should be picked up left hand. The hand would be now in crossed positioned.  Now, the right end should and the left end should be brought to the center and the bottom end should be pulled up between the legs. Once done, the diaper should be just an inch below the belly button to serve the purpose of wearing it efficiently.
For baby girls, usually a second diaper folder is used inside the bigger one to provide maximum thickness at the bottoms.
All these diapering techniques need practice to achieve perfection. But the general rule is large baby would need shallow folds and small baby would need large folds on the sides. While inserting the diaper pin, the adult's hand should be between the baby and the pin.