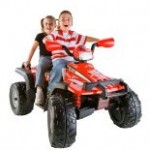 Children have lot of energy. They want somebody's company every time to play and to do something creative. Many times they want to watch T.V., but again they need company. These days, it is very difficult for parents to give sufficient time to children due to their own heavy work routine. Today's families are nuclear families. Children feel loneliness at home. This loneliness sometimes becomes a cause of many serious problems. In normal days, it is easy to entertain children because they also have less spare time. But during summer holidays it is very difficult for children to pass their time at home.
There are many ways to entertain your children.You can arrange some summer classes for your children.You can enroll your child in summer day camps near your place. Many cities offer recreational parks during summers. Art and craft classes, exercise programs and martial art classes can be a good choice too. Public schools also offer many training programs and summer workshops in their schools. To send your child in these summer classes and workshops will enhance the creativity of your child. But if you are not interested in this, you can do a lot of other things to plan the summer of your child.
A picnic in a water park or a zoo is always a good choice to entertain your child. Children love to play with water and feel very much excited to see animals. You can also bring friends of your child with you to make him happy there. A day trip to seashore is also very exciting. Children are keen to play with sand and water. They can make sand castles, homes, animals and many other things by using their imagination. But you should be very watchful because your child is near water.
You can also arrange a visit to an amusement park. In amusement parks, children love to enjoy different things like bike riding, horse riding, boating, swings, etc. But these visits may be costlier for your pocket and very tiring too. Moreover, you cannot visit these places everyday.
You can entertain your child at home too. You can teach him to make sandwiches, cakes, and cookies. Children are very eager to help their mother in cooking. You can assign them some easy activities like preparing tea or beverages for the family. You can also develop the interest of your child in gardening. Buy some toy gardening tools for him and teach him about the procedure of gardening.
Play creative games with your child. You can advise him to solve puzzles, make things from cardboard and waste materials etc. A scavenger hunt is also a good mental exercise for your child. You can also purchase some colors, sheets, canvases and brushes for your champ to create his own masterpiece.
Do have fun in vacations but also remember to keep your child in touch with his studies and advise him to finish his homework well in time.