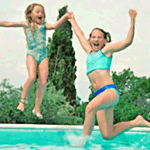 Summer is a hot season and also a holiday season. Parents are free, children are free and all are at home. This is a very exciting period for children and they have great plans for enjoying summers. But it may be a tough time for you as a parent to make your child busy in creative and fruitful activities. Every school also gives a huge homework to children. Children don't like to touch their books in these days. To compel your child to complete his homework, you have to do a lot of effort.
Children have a lot of energy in them but they don't know how to use it. As a parent it is your duty to manage the time of your child in such a way that he can enjoy his vacation and also keep in touch with his studies.
There are lots of summer classes available in every city. Dance classes, martial art classes, skating classes, piano classes, cookery classes and so on. It is up to you to decide in which class your child can enjoy. By sending him to one or two summer classes you can make him busy in a productive way.
While planning vacation of your child you should remember your childhood period. You should visualize what you wanted when you were a kid or would want if you get a chance to be a kid in the modern times? Only then you can plan your child's holidays in the right manner. This time is a time to play and make fun. Children want to watch TV programmes of their choice, they want to play games of different nature.
If your child is below 8 he/she will enjoy playing with you otherwise children want to play only with their friends. Let your child be free to decide how he wants to spend his vacation. Give him options and let him be free to choose from any one of them. Nevertheless, it is very important to create a balance between enjoyment and study.
Summer vacation is a very long period. More than 45 days are here for you to plan. In these days you can plan some trip to historical places or hill stations. You can bring your child to see magic shows or arrange visit to a zoo etc.
A scavenger hunt is a good game for the mental exercise of your child. You can hide some interesting things like toys, candies, coins etc and ask your child to find the things. You can also motivate your child to paint anything of his choice. Purchase some canvases, colors and brushes for him to help him make a masterpiece of his holidays.
For many of us vacation time is a time to meet with relatives and friends. You can arrange a visit to their house or invite them to your house. So, there are many things, which you can do to make this vacation pleasurable for your child.