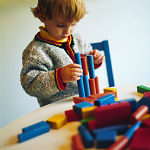 It is a dream of every parent that his child should be a genius. He must be smart and special from others. Parents want to see their child on top of the world. Since from the birth of a child, parents start dreaming about his future. They are very impatient about the development of his sensory organs.
Why is he not responding the way other babies respond? Why is he not speaking like the baby of the neighbor who started speaking at a much smaller age ? Why is he not walking or running as other children of his age group do ? Such questions create a lot of worry in the minds of parents.
As a parent you can improve your child's brain, you can develop his motor skills and it is only you who can make him perfect with your tireless efforts. You can test his aptitude and liking by simple motor skill tests. This will help you make a picture regarding his weak points and physical strength.
You can provide him educational toys available in market to develop his concentration and motor skills. Play Dough is the most suggested toy for your child to develop fine motor skills. Children can make anything with it using their imagination. You should welcome whatever he manufactures in his dough industry.
You can also give him a lock with key and ask him to open the lock or to lock it again. It will help him to increase his grip over things and also help him increase concentration. You can also use some simple puzzle games to improve his learning power.
You don't need to rush to the market every time you want to purchase educational toys, puzzles or cubes for your child. Anything available at home can be used to improve motor skills of your child. Scissors, colorful papers, gum, etc are easily available at home. You can use your skills and help your child make something of his liking with it.  Give him a paintbrush, pen, chalk or crayon to draw his imagination on the page.  Toy piano is also helpful for a child for better finger movement.
Number games are very useful for brain development. They also improve concentration, remembrance, focus and problem solving skills. Motivate him to do some practice with number games everyday. You can give him some candies and tell him to count them. Then you can add some more and again tell him to count. Then ask him the difference between the previous number and the present number. The market is flooded with skill games for kids of all age group, you just need to select them the best suitable for your child.
Your child's diet must be healthy and nutritious as well. You should be aware about his diet chart. It must include milk and eggs in breakfast, curd, vegetables, cereals, and chapatis in lunch, snacks and milk in the evening and vegetable and chapatis or porridge in dinner. 8-10 glasses of water is also very essential every day. With nutritious diet and above-mentioned games, you can create wonders with your child.