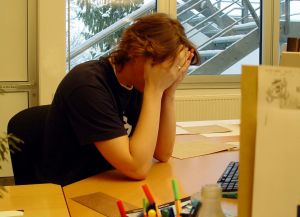 When a child is born he is like a clean slate. Childhoods years are very crucial in deciding the entire future of a person. Most people make mistakes in understanding children's are under tremendous stress because of growing competition in getting good marks in their studies.
Their daily schedule is getting  more hectic day by day. Parents are putting their ambitions on their children. What was being taught in XIth standard ten years ago, students are now studying in their Vth class. Their school bags are becoming heavier day by day. Admission into colleges too is not so easy. Even someone gets good marks, there is no surety about getting a suitable job.
How stress affects child's mental development?
This is a real story. Michael, a 12-year-old boy, became delinquent, started smoking, drinking and stealing though he was a goods student and also very good in sports. What was the reason for his becoming indifferent towards his studies? The reason was his very ambitions father who wanted his son to become a doctor. He wanted him to study all the time. He was punished for his mistakes. Michael started losing interest ran away from his school.
At present he is neither good at studies nor in sports. He has started shouting at his father. He says, "I hate school, teacher, books and examination. If anybody forces me I will run away from home."
Don't Expect Too Much from Your Child
In this highly competitive age, parents expect too much from their children. Even they put their own ambitions on children, which is the root cause of children stress even at the early age of five years.
Today too much stress is laid on studies and good marks because our education system is more academic oriented. It has nothing to do with practical training of an individual according to the profession he or she is going to take-up as a career.
You need to find child's ability
If your child is not able to secure good marks in studies, that does not mean that he won't be successful in life. Both Edison and Einstein were backbenchers in their classes and sent out of school for not performing well in their studies. But their inventions changed the whole world. You never know, your child may turn out to be news maker later in life.
Average students in school may become highly successful in their professional lives. Therefore, always try to appreciate the talents of your child. Do not enforce your ideas upon him. Only you can give suggestions and motive your children. A negative and nagging attitude is always counter-productive.
Understand the Real Potentials of Your Child
The moral of the story is, try to understand the aptitudes and skills of your child and then encourage him or her to take up those particular subjects. Try to find out key capabilities in your child. Never enforce your thinking on them, you can only inspire and motivate. If your child is very good in sports, encourage him in sports.
Similarly if a child gets good marks in drawing, encourage him/her to join a school of fine arts. A nagging and punishing attitude dose produces good result.
Never Compare Your Child With Others
The grass is always greener on the other side. The neighbor's child always seems to perform better then your child. Therefore, too little encouragement is given to one's own child.
Children are very sentimental. They tend to get hurt very easily when discouraged in order to perform better. Each time your son or daughter achieves something, rewards him/her with a gift.