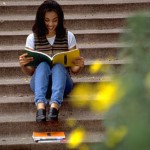 It is a very exhilarating moment when a youngster completes his school education and steps in the college grounds. Some give precedence to colleges in the vicinity of home but some prefer to go away to those institutions, which are new to them. A new sense of freedom arises around in the air. Everything seems very magnetizing.
But for parents it is the time to construct healthy line of communication with their child because it is the time when the future of a child is going to take new shape. It is very important for parents to communicate with children as friends and not as elders because at this stage of life everyone wants to regulate things. Parents have to loosen the grip of their control to fabricate better understanding.
There are certain things that can be discussed with your child to prepare him/her to survive successfully in the new surroundings. Every institution has its own educational demands. To make your child familiar to that demands you can organize a conversation with a senior, a teacher or with someone who is studying in the same environments. Encourage your child to converse with teachers and professors outside or inside the classroom without any hitch if he/she has any queries.
Every college provides some kind of counseling and mentoring centers in the campus without any cost. You can also encourage your child to get benefit of these services for better understanding of concepts. You can also advise your child to participate actively in extra-curricular activities.
You can also tell him about the value of regularity and encourage him to attend classes regularly and thoughtfully. Advise him to realize the importance of healthy diet habits. Give him a diet plan, which would be helpful in satisfying his energy needs and in strengthening his mind and body.
It has become a trend to consume alcohol and drugs in the college going guys. Your child is going to that environment where the peers encourage this behavior. Educate him how to remain safe while having fun with friends. Tell your child the ill effects of alcohol and drugs.
Also inform him about the uses/abuses of Internet. Internet is an ocean of information for every child, but if he doesn't know how to swim safely, it will certainly hamper his academic carrier.
In today's time, it is very necessary to provide sex education to your child. Discuss the life long consequences of engaging in unsafe sexual acts with one or many cohorts. Inform your child about the diseases caused by sexual transmission and also tell him/her about the preventive means.
Make it a habit to make unexpected visits to your child and also make regular calls if your child is studying away from you. Be acquainted with his friend circle and keep a track of what is going on in his life. After all, your child's future is your responsibility and your best earning.