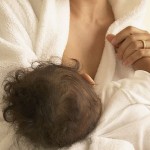 If you have decided not to breastfeed your baby any more, you have to wean him from your breast. When you take this decision our baby may be at any stage of his development. Actually, sometimes there are many unavoidable reasons and the mother has to wean her baby, even if she herself is totally against it. Then, you have to resort to formula milk or cow's milk (preferred). The following tips will help you immensely in this regard.
Make it a point that you bring about weaning at a slow pace. Reduce the breast-feeding sessions gradually so that the baby does not get a shock on switching over to a different feed.
Your baby will soon find out that he is missing the pleasure of breast-feeding. So, you must distract his attention by making him busy in various kinds of activities.
You should try to end each breast-feeding session in a novel way. Your baby should be engaged to a physical activity so that he forgets about sucking at your breast.
Don't reduce the cuddling and love that you were giving to your child at the time of breast-feeding. Now that you have reduced that time considerably, you should rock your baby or make him sit in your lap and cuddle him softly.
Try to eliminate that nursing session which is the most difficult for you. For example, the night breast-feeding session is a case in point. You should first resort to bottle feed for the night period. This would be convenient both for you as well as your baby.
When you are not nursing your baby, always try to hide your breasts from your child. It is because the sight of the breast may rekindle his desire to breast-feed.
Try to keep on changing places during the time when you are weaning your child. It will help in distracting your child from the enjoyment and comfort that he regularly gets at a fixed place in the house.
If your child is quite grown up and can understand your words, try to make him appreciate the fact that now he has grown up and should do certain things independently. This includes breastfeeding, using the potty chair, dressing up etc.
However, if your child is persistent in his desire and does not show any inclination to wean, you should exercise extreme patience and self-control. Don't try to force your child into weaning and never indulge in any kind of violent or harsh means for this purpose. Your child may even become the victim of a trauma if his weaning is not smooth and gradual.