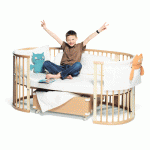 Sound sleep plays a significant role in the growth of a child. It is a scientific fact that a child grows a good deal when he is sleeping. Children need a comfortable place where they can relax. It is true that children can sleep on any surface especially if they are very tired. But it does not mean that they don't need comfort.
If the bed is comfortable, your child is sure to wakeup in a delightful frame of mind. Bad quality beds can make him irksome. The bed of your child should be of such quality as helps him to grow and generate positive energy.
Most of the children up to the age of four sleep with their parents. But after that they need a separate bed. Sometimes children have their own choice of bedding, but it is up to you as a parent to decide the best bed for your child. Children can choose the bed sheet and shape of the bed but you should decide the quality of the mattress, bed sheet and pillows.
When you are going to buy a bed for your child, you should purchase a bed keeping in mind not only the present needs but the future ones as well.  There are many beds and mattresses in the market but keep in mind that all that glitters is not gold. Luxurious beds are not supportive to a great extent. Children cannot sleep in the right position on plush mattresses. It is good to see soft beds in advertisements and movies but in actual life firm beds are helpful for the health of your child's backbone. Firm beds give adequate support that the body requires.
There are many kinds of beds and mattresses available in market at considerable price. Bunk bed, daybed, futon bed, memory foam bed, and organic bed etc. are offered by the manufacturers.  It is up to your requirement, pocket and intellect to choose the right type of bed for your child.
Bunk bed is a space saver. Teenagers love these beds,  but these beds are not good for children. Daybeds give the impression of a couch and you can convert them to a bed at nighttime. Daybeds are available in many shapes and sizes. Many parents like them due to their multiple use. Futon beds are also very popular. These are also multipurpose beds. These can be converted into a couch, bed, or guest bed etc. These beds are space savers too.
A conventional, decorative and good-looking bed will help your child sleep in good mood so that he/she is able to wake up in a pleasant mood. You should prefer a double bed for you child, as we all know that children move around in the bed all night. If the bed is of sufficient size, a child can be in motion without the danger of falling down.