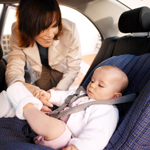 Having a child at home is an exciting and pleasing thought not only for the parents, but also for siblings other children in the family, grandparents and also for nanny if employed to take care of the child. Each member of the house hold decides in his own way how to welcome the child. However it is essential to keep in mind certain safety tips before and after the child is at home or with you moving around.
If there are elder brothers or sisters of the child at home ensure that they have been properly guided, explained and mentally prepared about the arrival of the new member. Sometimes due to sharing of attention of the parents these kids get frustrated and injure the new one. The elder child should be properly guided as to how to handle the delicate little brother or sister.
While taking out the child in a pram ensure that the safety belt available in the pram is properly tied and the child is unable to jump out. The sides of the vehicle in which the child is being transported should be securely locked. Small babies spend quite some time sleeping. The child should be made to sleep on his back. Some children tend to sleep with their face down but this should be discouraged from beginning as sometimes the child may get suffocated. Have proper thin pillow for the child.
While taking the child for a drive, do not fix the child car seat on the front seat, it should be fixed on the back seat. If the child is less than one year of age he should be made to face in rear direction.
Special care of the skin of the child is needed. It is very delicate and should not be exposed to direct sunlight as this way the child may get sun burns. Special care should be made to select soap, oil and powder of the child. Toilet items with harsh chemicals can cause skin rashes. Take special precaution while giving bath to the child. Never leave the child unattended during bath or near water.
Always accompany the child and never leave him even for a minute. The child may not be familiar with the area and may get lost if left alone. When you take the child for an outing, ensure to carry drinking water, feed and necessary clothes etc. to change in case of need. Never keep any object nearby which the child can pick up and put in mouth. This may get stuck in throat resulting in choking.
Ensure that the bed is not too high as when the child starts crawling there are chances of his falling down and getting injured. Remember that your presence is a must always, never leave your baby unattended.