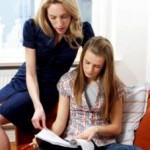 Parents are the first teachers of the child. Older siblings and other family members may also be involved to help the child. A child gets his first informal lesson from the parents. The lesson of being disciplined begins at home and this starts from the age the child learns to understand. As the child grows up, the level and nature of education also change. This fact is also recognised by the teachers.
It is widely accepted that those children who get proper training from parents at home in early days of childhood always do well in school, and subsequently go in for higher education, and are successful in life. As per the research reports, if parents are involved in a child's education, the child is bound to be better disciplined and always achieves better score.
Even while being in school the child spends more time with parents, as such they have better opportunity to teach the child. The parents have to deal with only their own children resulting in better interaction, but the teacher has to divide time between large numbers of students in class.
It is essential for the parents to develop school like atmosphere at home while the child studies. The daily routine should be set and deviations allowed only in special cases. The time for watching TV should be strictly regulated and effort should be made to ensure that the child watches informative programmes and avoids adult contents. The parents should ensure that the child does not develop the habit of avoiding going to school without proper reason. They should provide the child with sufficient good reading material.
Creating proper study environment is the responsibility of the parents. A child should have a separate study area with a chair, table and cupboard. This area should be properly illuminated and ventilated. There should be least disturbance and adequate stationary should be stored in his cupboard.
The parents should have positive attitude towards studies, school and the child's behaviour. They should be ready to visit the school to meet the teacher in case of the slightest need and should not wait for the conditions to aggravate. Discipline during study is a must , otherwise there is tendency in children to become undisciplined. Though extracurricular activities like recreation and sports are essential for balanced development of the child, but a strict balance has to be there in all the aspects. Though the first effort should be persuasion for better conduct but if need be harsher methods have to be employed.
To conclude, parents are first teachers and play an important role in the education of the child.