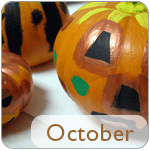 October is the time for making fun. It is the time to celebrate a big event that is Halloween. People buy candies, pumpkins, decoration material, sweets, candles, crackers, new clothes etc. to make their October memorable. You can plan a pumpkin Sunday in your locality for immense fun. But the concern of the parents is the well being of their children. Some people don't like to let their children accept candies from strangers. Sometimes people celebrate this October by firing crackers at night, which is harmful for children if safety rules are not properly followed. With a little vigilance, you can enjoy this month satisfyingly.
If you have plans to celebrate a Halloween costume party for kids, you should make a list of activities and things you need to make it superbly interesting. Purchase a pumpkin and decorate it in a nearby park to give it the look of pumpkin picnic. Pack your lunch and enjoy your picnic with your family and friends. But don't forget to purchase plenty of gifts. Children love to win prizes. You can make your event more interesting by playing musical games.
You can also visit a pumpkin patch and tell the children to pick their own pumpkin. You can ask children about the benefits of pumpkin eating. You can also make a scarecrow on your own with old clothes. Invite your child to help you in this work. Children love to make scarecrows and feel great happiness when they see the finished product. You can also make Halloween costumes yourself. No doubt, you can easily buy costumes from the market but it is better to design your own Halloween costumes and decorate them with accessories.
Remember it is a festive season. You should decorate your house to give it a magical look. Much decorative Halloween stuff is available in the market to decorate doors, balcony, terrace and veranda of your home. Collect leaves to burn them for smoke. It is a very enjoyable activity for children. You can also hide some little pumpkins wrapped with prizes and ask children to find them.
Children are passionate about making their Halloween masks with paper etc. Motivate your child to demonstrate his own mask. You can help him and tie it with yarn sticks. You can also organize a competition for the best Halloween mask.
You can make a pumpkin bowling game. Two things you need for this game are 10 bottles of plastic full of water and a wrapped pumpkin. The size of pumpkin depends upon the age of players. Ask children to hit all the bottles in two attempts. The child who hits the maximum bottles gets a prize. You can also motivate children to decorate pumpkins with colorful papers and accessories.
Firing of crackers at night gives a magical look to your decorated house, but you should be with your children when they fire crackers. With your creativeness and vigilance you can make October a memorable month in actual fact.