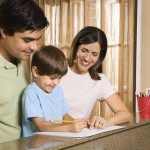 Every parent in this world desires to be the parent of an intelligent, gifted, bright, smart and active child. We want that even if our child is good at sports, dancing or singing, he must perform exceptionally well at school. Parents are desperate to do anything to help their child stand first in class. Some parents punish their child when they don't do well but it is a wrong approach. Stick is not a good solution. You should motivate your child if you want him to excel in the long run.
You should encourage your child for recognizing his potential, abilities and weaknesses. By assessing the performance of your child in all subjects you can organize tuition for those subjects in which your child is weak. It can be that your child is good in mathematics but poor in language. You should appreciate him for being good in mathematics and arrange a good tutor for language.  Your motivating words that 'you can do it' will definitely do magic. Motivate him to try harder in the next exams. The best thing is self- confidence.
You should give him some productive time before he starts doing his homework. You should see his notebooks and dairy to know that what your child does at school. You should remain cool headed when you are motivating your child to do home work. I know it is very difficult to remain calm but try it for better results. You should also ask him questions as to what he likes to read and write.
Don't demoralize your child if he is not doing well. Encourage him with certain types of material and nonmaterial incentives. If your child is showing disinterest after all your efforts, you can take help of experts and teachers. Tell your child firmly to finish his homework with a little bit of strictness. Don't allow him to give excuses and arguments.
Many parents complained that they don't have time to sit all the time with their children when they are doing homework. You can supervise your child while you are cooking food or doing some other work. Don't sit with him for the whole time but be aware about what your child is doing. Don't allow your child to do homework in his room. Arrange a good study table in your own room for your child.
When parents show their interest in the study of their loved ones, there is no place for poor performance. You should be tactful with your child. Don't fix the hours of study. Leave it on the choice of your child. Whenever he is in a relaxing mood, you can tell him to study. Be friendly with your child. If he is not good in a particular subject due to the fear of the teacher or lack of ability of the teacher, ask him about his problems. Show faith in him but don't spoil him by indulging in blind faith.