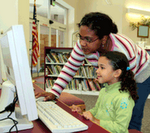 Children always very inquisitive and have lot of questions like why, what, how etc. These questions should be answered and they should be encouraged to ask more. These are the ways through which they would enhance their knowledge. There are many such questions they have even with regard to their academics, but the teacher many not be able to address them due to various reasons. The parents can help in their quest for knowledge through learning tools. These tools would help in learning, cognitive, reasoning and perception too. Following are some easy learning tools for kids.
Interactive Television
Every child enjoys watching television. Watching television can be made more productive by getting them to watch educational programmes, cartoon character that give education messages. All these features have been in interactive television's edutainment section. This feature is gaining popularity as it's an ingenious way to make the children learn. Just watching educational programmes is not sufficient. Parents must sit with the child and discuss it with them.
CDs as Learning Tools
Gone are the days when fat and heavy encyclopedias had to be read by the kids to know about various stuffs like animals, solar system etc. Today there are a plenty of CDs on almost all topics under the sun interesting differnt age groups. They are skillfully done to maintain the interest. They are attractively packed and contain graphics and images that would make it easy for the child to learn and understand.
Websites for Kids
Internet has galore of information on all topics. There are lots of websites meant for the kids. They can learn maths, language, spellings, and quizzes, enhancing logic, stretching imagination through creative writing and story telling and a lot of problem solving.  But the kids should never be allowed to access internet on their own without parental guidance.
Exposure to all these tools in measured quantities will help the child learn a lot more than they would otherwise. Also, as they grow up they become biased to certain subjects due to various reasons. If the children are exposed these tools at a young age, they could very well use these to learn though subjects they find 'difficult' or 'dislike'.