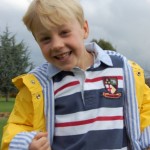 Children's clothing need frequent replacement. Kids outgrow their clothes very quickly. Even if they don't, their clothes get worn out quickly. Thus you need to spend considerable time buying clothes for them. Here online shopping comes to your rescue by offering you an option to shop and save some money through your computer. Online shopping can be done from a store's website or with the help of an online auction site.
Shopping online through a store's website has a lot of benefits over physical shopping. Online stores offer a larger variety of merchandise in terms of colours, designs, sizes and availability. Also, it offers you flexibility of timing as you can shop at a time convenient to you. Additionally, environment benefits from online shopping as it helps cut down on fuel costs and air pollution caused by car trips.
Some useful tips for shopping from online portals are :
1. You can check the size of clothing needed at home and also on the website's size chart before ordering. Thus saving on trips to return ill fitting clothing.
2. You must go through the website's return policy carefully. Some stores don't provide free of cost shipping on returns. You must check if the store offers an option of returning goods at the physical store, other do not.
3. In case or erroneous delivery by the online store, you must contact the customer service department first through phone or mail. Most of the stores offer free return shipping, however, you may need to wait for a few days to get the correct order.
4. You should clarify all your queries about the order or clothing with the customer service, in case the website does not offer full information.
5. You can benefit from end of season sales by ordering clothes in advance and put them aside for use later.
6. You can subscribe to mailers from the store which inform you about special offers from time to time.
7. You must do some research on the internet about special offers, freebies, discounts, extra coupons on various websites. By spending a little extra time, you can end up with great bargains!
8. Ensure that the online portal is secure before tending any credit card information.
The second option for buying online is through online auctions. You can buy children's clothing at very reasonable rates. Some tips for shopping on online auctions are :
1. Carefully go through the item description. You can e mail the seller with your queries.

2. You must check the size of the clothes with the seller and compare them with your child's existing clothes for best results.
3. Check about the return policy. Many online auctions have a stricter return policy as compared to online stores, accepting return of damaged clothing only.

4. You may opt for shipping insurance to cover damages during delivery.
5. Inspect the order well on delivery and wash it thoroughly.
These tips will not only help you get good stuff for your children but also help you save a lot of time and money.