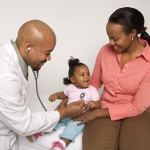 A child is the best gift from nature to parents. All parents want their child to be in good health. This is possible if proper care of the child is taken from day one. It does not only mean proper nourishment or properly dressing the child but includes proper health check up. A health check up is necessary at periodic intervals after the birth of the child. Normally good hospitals give a booklet to the parents after birth giving details of essential check up, and also the periodic vaccinations required for the child from time to time to prevent the child from contacting certain diseases. This will give him a protective cover throughout life.
It is the responsibility of the parents to meticulously follow the vaccination schedule. Often state run centres provide facility of vaccination at nominal cost under child health programme. If this is not available, then look for a child specialist who provides the facility.
Next comes the turn of contacting the doctor to know that the general development of the child is normal. The hospital where the child is delivered often gives a check up schedule. The child needs to visit a specialist after three months of birth, the next visit can be after another six months and thereafter as suggested.
The purpose of these visits is to let the specialist examine the general development. As the child is unable to himself tell the trouble, the health check can provide a clue if there is any deficiency needing corrective action. For the purpose of check up it is essential to locate the right physician. This you can find by local enquiry. Do not feel shy of consulting mothers with children about the doctor whom they visit. By discussing with quite a few of them you will be able to decide on one. Then visit his clinic and try to get general information from the outlook of the clinic and about number of patients availing his services.
When you take your child to the doctor properly observe how the doctor talks to the child and checks him. You will be able to judge the extent of professionalism the doctor has from the way he handles the child.
Often children are covered under healthcare policy if taken by the parents. Ascertain if the doctor you visit accepts the payment from the company providing the policy, otherwise you may have to shell out cash from your pocket despite having taken a policy. In case the parents are unable to afford the routine medical check up, take the help of specialists available in government aided hospitals, or those run by some associations or charity organisations. You will find competent doctors available there.
Once the child has undergone proper check up, ensure to follow the suggestions of the specialist.