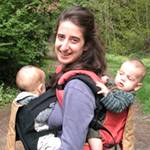 Becoming parents is a beautiful experience in life. This experience is seldom forgotten by anyone, no matter how old he or she may grow. A child is best gift of God to any human being, but parenting twins, though a double blessing comes with some difficulties to which the parents are exposed during days to come. For those couples living on their own and who have no support of their parents or near relatives, from the day they come to know about having twins a sense of horror creeps into their minds.
Bringing up children involves a lot of effort, for quite some time the mother has to forgo her rest, recreation and hobbies. This is a whole time job so bringing up two children together is bound to be an effort. Remember a few things to make life easy.
Always have positive thinking, think that God has given you double joy and your family is complete at one stroke. When at home from the hospital, sit and have a sense of joy and pride in yourself. Talk to your husband and tell him that his help will be needed the most during next few weeks. If possible manage a domestic help to help you doing some odd jobs.
During early days feeding the twins children is the most time consuming job. As the feeding routine has not yet been set, child demands feed at short and irregular intervals. The children may be breast feed or on formulated milk, as far as possible try to feed both the children together. In case of breast feeding mothers this may be difficult and uncomfortable. In case of bottle fed children, make them lie down on a pillow and give them bottles together. After they finish the bottle burp them one after the other. With time the children will start understanding the routine.
Next thing is sanitation of the children. For this disposable nappies are available in the market. Though cost is involved but they are necessary in the circumstances you are placed in. It has been medically proved that these are fully hygienic and safe for children if replaced at suitable intervals.
Bathing is another exercise involving lot of efforts. When the children are young they need to be given bath individually, however when they are able to sit, they can be given bath together in a bigger tub, saving lot of your time and energy.
Be assured in your mind that with each passing day both are growing, and a day will come soon when they will be in a position to do some things on their own and you will have easier life.