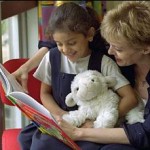 Knowledge sure holds immense importance in today's fast paced world. If you have knowledge, you are the boss whereas if you don't, your luck will soon take a backseat. Every parent takes pride in projecting his child's intelligence, irrespective of his age. It's quite praiseworthy to have children who are well read and well-informed. In fact apart from the above, it is now a status symbol to be the proud parents of exemplary children. Hence, a lot of us coax our little ones to indulge in activities that help them learn better and quicker.
For teaching reading comprehension to kids, inculcate the habit from day one. Don't think that if your baby is a tiny little creature, who can neither walk nor talk, he won't understand the world. A child, irrespective of his age, understands and reacts to every thing happening around him. So make it a habit to read good stories to him while he's still a tiny bundle of joy. This way, you will soon instill the habit of leaning new words in him, which will help him further on.
Identify the different types of reading. Notice what ever pleases your child. If he likes to read poetry, make sure you sit and explain the summery to him each time he reads one and ask him to do it the next time to add some fun. Also, make sure the word-hunting part isn't boring so that he enjoys digging in the dictionaries unlike many.
Playing games which enhance word power helps. Scrabble and making-many-words-from-one tremendously aids children in enhancing their vocabulary. Once they get into a habit of reading regularly they would also improve their language using new words every now and then making you proud in the bargain.
Even as grown ups push them to read good novels. This way they will soon get into the habit of learning new things, broadening their prospects for the later stages in life. The amount of exposure a child could get by reading books is phenomenal. Sitting in the privacy of a room they could know the history, geography and economics of other countries which is mind blowing.
If your little one doesn't like the books, do not fret or get frustrated for all five fingers are never the same. In such cases you could always try introducing the habit of reading for fun or reading to sleep, which by no means, fails.