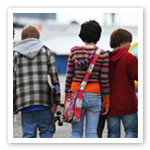 Increasingly we hear news of violence in some school or the other resulting in gang war or gunfire. Due to this often casualties and injuries are reported. This trend is increasing though schools have also started to take precautions. Along with schools it is the duty of the parents to take steps that their child in particular and all children in general, do not indulge in unwanted activities.
Schools are increasing security staff. The main gate is often locked when the school time starts. All dark areas in the school are being provided with lights. Toilets are being shifted near administrative buildings.
The parents should take steps to ensure that their child does not fall into bad company. With ever increasing trend of use of drugs by school going children and formation of gangs, the parents need to be more active to monitor activities of the child. First of all counselling is essential. It should be explained to the child in clear terms about the ill effect of drugs on the whole life. The child should be taught to be law abiding and the type and extent of punishment he will have to undergo if caught indulging in undesirable activities.
The parents should regularly visit the school of the child to meet the teachers or the counsellor to get feedback about the progress of the child in studies and general feedback about his activities and behaviour. If there is a parent teacher association in the school the parents should become members and take active interest in the activities of the association. If such an association does not exist, steps should be taken to form one. The parents should regularly ask the child about any problem faced by him in school, both relating to studies and generally.
Steps should be taken that the child spends more time in school to prevent him or her from mixing with rogue students. If the school has arrangement for extra classes after regular school hours, he must be admitted in such classes. The parents should be very particular to notice any change in behaviour of the child. If the child starts getting angry easily, or starts spending more time outside, or is on phone for a long time and refuses to disclose the identity of his friends, the parents should immediately go to the school counsellor for consultation and remedial action.
Most of the schools have a safety manual. The parents should ensure to go through it minutely and as far as possible try to follow the instructions like dress code, or general discipline requirement, and interaction with strangers.