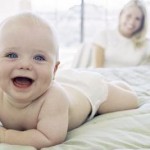 When a baby is born in the family, the basic instinct of all the parents is to capture those early days on camera. Popularly used as postcard pics to inform friends and family about the new arrival, baby shower gifts, for keeping in the album to cherish and relive the moments later on in life.
But while taking these pictures certain amount of precaution should be maintained as the flash from the camera is not healthy for the baby. Here is a list of precautions:
Due regard to mood of the baby: Babies are not happy all the times and unhappy and cranky babies don't pose to give good pictures. It's always better to wait and shoot pictures when the baby is happy, well rested and calm.
No bright lights and flash: Babies are very sensitive and especially to bright lights like flash. It's better to avoid flash photography. The pictures could be taken in broad day light or using lamps to create the necessary amount of lighting so that flash is not required.

Good quality camera and film: Good quality camera and film will always give great pictures. These moments of the baby would not get repeated so it's better to invest in quality stuff for the baby's sake.
Minimum distractions: Ensure that while taking pictures there is minimum or no distraction like TV or people moving about or loud music etc. Even too many people around can distract the baby.
Long distance shots: Although it's great to have close up pictures of the baby they can get blurry and out of focus. So it's better to go in for shot at various distances and keep the ones that come out the best.
Shots from various angles: It's always better to get more than one shot from various angles especially if they are taken for photo gifts. Until the pictures are developed, it's hard to say to which one would look good.
Background: Trying to set an ideal background can be a distraction. So it's better to go in for simple plain background.

Interactions with other people: Family and friends cuddling the baby, baby holding their hands and other interactions of the baby with the people around make great pictures for albums.