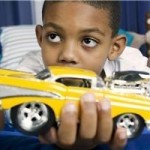 Have you ever considered buying a toy for an autistic child? Do you reckon the autistic children love different types of toys to play with unlike the normal children? Regardless if a child has autism, another disability or not, all children love toys. Of course, no child is alike. Therefore, what may be enjoyed by one child may not hold the interest of another. Thus, the trick is to figure out which toys your autistic child will enjoy playing with, and will help him develop his skills in the bargain.
It has been noticed that children with autism or related developmental disorders do not always share the same play interests as other children do. Choosing toys for autistic children can pose a challenge for many parents. Hence, always remember that when it comes to buying toys for the autistic children, invest in games that will stimulate their senses and help them be more creative and imaginative. Look for toys made specifically for sensory stimulation, development and social skills. These toys for autistic children can be specially made or they can also be regular, everyday toys that all children enjoy.
For children between the three to seven age bracket try buying story books with repetition and rhyme, color pencils, mix and match toys and building blocks for enhancing their creative and motor skills. You could also buy toys that light up such as the 'flashing molecule ball' which are good for visual stimulation.
For children between eight and twelve a musical toy instrument, a calculator cash register, picture books, board games are absolutely a perfect way to merit their creativity in ever respect. The calculator toy is apt for boosting their mathematical skill while the rest including regular board games help to develop cognitive and motor skills.
All the above mentioned toys could prove to be ideal for an autistic child because they help in surfacing the right feature of excellence in them. Competition, participation and social interaction are of prime importance for their mental growth and stimulation.
Apart from the aforementioned, all they need is your love and care that will make them move ahead in life without the slightest nudge.