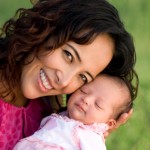 Pediatrician William Sears coined the term Attachment Parenting (AP). It is basically a parenting philosophy and is based on the attachment theory found in developmental psychology. Attachment theory advocates that if a child has a strong sentimental bond with its parents in childhood, he is sure to have a healthy and passionate relationship with them after attaining adulthood. This strong bond is also called as 'secure attachment'.
Attachment parenting is that type of parenting approach that has its complete basis in the attachment theory. According to attachment theory an infant always tends to be close to a person and feels protected in the presence of that particular person. This theory says that children get attached to their parents because they are social entities and this behavior is a very normal to child growth and development.
Dr Sears Attachment Parenting Theory Principles
Dr Sears has invented seven attachment tools. These are also called as Seven B's. These primarily deal with proper caring and upbringing of your baby. In this way whatever is best in babies and whatever best can be done by parents in this regard is emphasized. The seven B's are bond at birth, breastfeeding, baby-wearing, sleeping close to baby, understanding your baby's cry, negation of dependence on trainers and balance.
Dr Sears also opines that these rules are guidelines on which parents can work for the betterment of their children. They may not be observable in totality but the guidance derived from them is worth it. Various circumstances like family atmosphere, medical disposition etc. may cause variations in these rules. These variations do not interfere in the parents' care for their baby and parents can even make changes in them and still be successfully caring parents.
Dr Sears says that these seven B's are not steps but tools. He says so to bring home the point that a set of steps has to be followed in Toto for the successful accomplishment of an aim. But, on the other hand, a tool can be changed and modified according to our own needs and circumstances. He wants that parents should modify those tools that are not bringing in good results for them. In this way parents will be able to develop an exclusive style of parenting that would be perfectly suitable for them as well as for their baby.