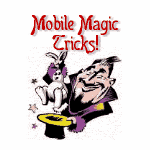 Magic tricks are nothing but the combination of human psychology, hypnotism, science principles and extreme practice by the practitioner or magician. For children these tricks are a source of great curiosity and fun. Many science principles are like magic, which are used by many magicians in their shows to attract, wonder and entertain the kids. After revealing the facts, children learn that there is nothing like magic in this world but science.
Magic has always been one of the best sources of entertainment for children as well as adults. Children of all ages are fascinated about magic tricks. Magicians' shows, magic books, simple magic tricks played by parents delight children very much. By playing some easy magic tricks you can stimulate the imagination of your child. Magic tricks also persuade critical thinking in children. Answering all their questions may be difficult for parents, but it is necessary to answer all their queries, at least partially, to develop a scientific and critical outlook in children.
Many magic shows are telecast these days on different channels to increase their TRP. Sometimes news channels also cover the magic shows. Simple magic tricks are easy to teach in classrooms and make teaching interesting. Children can also perform some tricks at home by themselves. I still remember that Principal of my school acted upon many easy tricks in assembly time and delighted us. The hand tricks like disappearing of the thumb or elbow were really entertaining ones. All these tricks made him very popular among children.
Children love to perform magic tricks to befool their parents and elders. It is their way of grab attention. By misdirecting them with their magic tricks, children feel immense pleasure. But you should be very careful about the security of the child. When your child is demonstrating some magic tricks, remain extra concerned for the protection of child. Many times tricks performed by children are not of any interest but don't discourage them by showing that you know these tricks beforehand. Always show curiosity and clap at the end of their performance to boost their confidence level.
In the today's age of technology you can help your child learn a lot of magic tricks from Internet too. Many websites offer easy homemade tricks. Encourage your child to practice these tricks in private and then amuse his friend circle. With the help of magic tricks your child can be the hero of his class and can become popular among teachers too.
Magic tricks for children should be very easy and the illustrations used in these tricks should also be easily comprehensible. Magic is a source of fun and curiosity but this fun should be friendly for the pocket of parents too. Magic is an art,  and to get perfection in any art, practice is must. As a parent you should encourage your child to do practice seriously.
Many professional magicians have established magic teaching institutes for kids. Magic tricks like cup & balls, rope set, fake plastic thumb, sponge ball etc are taught in these institutes. Playing cards are the heart of magic tricks. With the help of simple playing cards, expert magicians teach many difficult and amusing tricks to children.
It's all a matter of preference. If your child is inclined towards magic, you shouldn't curb this desire of his. It would give him pleasure, satisfaction and boost his confidence level.