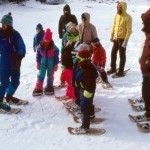 Winter is considered an enjoyable time by those who are fond of outdoor activities. Kids who wish to spend time doing outdoor activities look forward to winter months and wish to spend maximum time outdoors. However elderly people will think otherwise and will try to find cozy corners to enjoy a movie or a TV show.
The most common cold weather sport is skiing. Remember that this sport is both adventurous and interesting and although risky if an immature child tries his hand without proper training and escort to begin with. Too much exposure to snow or cold weather could result in skin rashes or even frost bites. Before your kid ventures out ensure that he is adequately covered. More layers of clothes are always better than thick and heavy clothes. Air trapped between layers act as insulating material. Moreover, if after some activity the child feels hot he can remove one or more layers.
In addition to the clothes ensure to make the child wear gloves, extra pair of socks, tight fit cap or hat and sunglasses to prevent glare of reflection of light from snow entering his eyes. In case of intense sunlight outside ensure that all the parts of body of the child are properly covered as light reflected from snow could cause sunburns. When going for skiing the child should be wearing all safety gadgets like knee, wrist and arm caps, helmet, goggles and other prescribed safety gadgets. Remember injury caused by snow or frost is far more painful as compared to normal injury.
If you live far away from snow clad mountains the whole family can plan a trip for a week end or even longer to some skiing destination. With advancement of communication system and internet facilities you can find out places at which the snow related activities are continuing. You can do travel and hotel booking online to avoid disappointment after reaching the spot. Once you are comfortable in the hotel the enjoyment will increase many fold. The guide in the hotel will be able to tell you about the ongoing activities and make booking and other arrangements for participating in them. Many hotels provide skiing kits on payment of rent.
Some of the activities available at the mountains covered with snow are:
Skiing amongst others this is an easy sport provided you have had proper lectures from the guide before actual trial. Training programmes are generally available at the resorts for beginners. You should also teach the child to be careful and not to act in a reckless manner as safety comes before enjoyment. The child should avoid steep hills when he is a beginner.
Once the child has tried his hand at skiing he can venture into cross country skiing. For this special types of long thin skis are used having shoes fixed to them. The special design of the shoes enables the skier to move up and down the hill with comfort. Start with flat or almost flat surface. Lot of exercise or movement of limbs is involved in skiing and the kid should be prepared beforehand. Those leading sedentary life may find it difficult to indulge in this activity.
Snowboarding is another snow related activity liked by the kids. This is also a skilful activity and needs to be carried out after strict learning process. Snow boards and other necessary gadgets are available on rent. If you have tried activity of snowboarding on water surface it will be easy to pick up on snow clad mountains.
The easiest snow related activity is snowshoeing. This is just walking, running and hiking on the snow covered mountains. The whole family can join in the activity of snowshoeing together. Snow shoes can be rented out from the hotel where you stay or from some shops nearby and can be strapped over your normal shoes. Ice skating and kids sledding in snow are also very popular winter sports among kids.
It will be a great fun time for the whole family being together and enjoying cold weather on the snow clad mountains.